GarageBand
Overview of GarageBand
Create, Perform and Record Your Own Music
Create Audio and Video Podcasts
GarageBand Window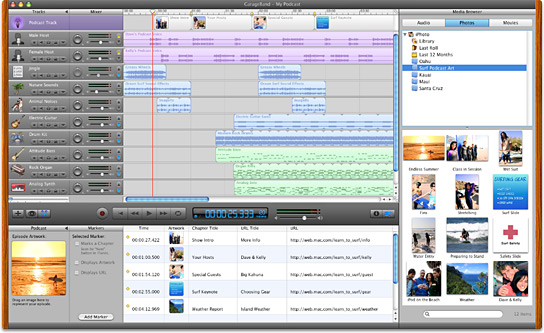 Track Header
Small Buttons

Mute
Headphones/Solo - Just listen to that one track
Track Volume adjustment for just this track

Mixer
Controls
Shuttle Controls
Time Window
Music Measurement
RealTime Measurement
Timeline
Ruler - Measures from 1-200 (no zero)
Snap To Feature
Volume controls in Timeline area just like iMovie
System Requirements:
At least 600 Mhz G3 processor minimum
G4 or faster required for GarageBand software instruments
OS X
256 MB RAM
DVD required to install GarageBand and iDVD
4.3 GB of available hard drive space to install entire iLife suite including GarageBand
GarageBand is a processor hog!
GarageBand Information
Understanding the basics of Music helps!
GarageBand is three musical applications in one:
Loop Based Sequencer
Midi Sequencer
Digital Audio Recorder
Creating a New Song
Save to:
Users Home Directory/Music/GarageBand
Loops
Loop Browser - Apple Loops
Green Tracks are software based music - MIDI tracks
Blue Tracks are real instrument recordings - harder to modify
GarageBand Jam Pack Loops
Additional loops are available for purchase to increase your loop collections.

Working with Tracks
Modifying instruments, volume, etc.
Duplicating loops
Record Your Own Music, Arrange and Mix Your Song
Keyboard
Software Instruments vs. Real Instruments
Exporting to iTunes
Once you have created your musical piece, you can export it to iTunes and from there, your song can be used in iPhoto, iMovie, iWeb, or iDVD projects. You could burn CD's of your original music compositions. You will need to set your preferences in GarageBand and set the name of the playlist, composer, and album before you export to iTunes.
Podcasts
A podcast is an audio file that is broadcast over the internet and can be played on demand by the user. Some podcasts also include pictures or video to enhance the podcast. Podcasts can be downloaded from a variety of podcast directory sites such as the iTunes Store.
Creating a New Podcast Episode
Planning Your Podcast - episode or series
Organize Your Media
Record Your Podcast - Vocals, Jingles Sound Effects
Editing and Mixing
Add Artwork or Photos
Add URL's
Add Chapter Markers
Sharing

Export to iTunes
Export to iWeb
Export file to another location
Help
Apple - iLife - GarageBand
http://www.apple.com/ilife/garageband/
Apple - Support - GarageBand
http://www.apple.com/support/garageband/
Apple Discussions - GarageBand
http://discussions.info.apple.com/webx?14@195.FIX1ahfDovX.0@garageband
GarageBand Books
Gavenda,Victor. GarageBand For Mac OS X, Visual QuickStart Guide, 2004
ISBN: 0-321-27281-1
http://www.peachpit.com
Plummer, Mary. GarageBand: Create and Record Music on a Mac, Apple Training Series, 2004
ISBN: 0-321-26876-8
http://www.peachpit.com
Farkas, Bart. Secrets of Podcasting: Audio Blogging for the Massesu>, Peachpit Press, 2006
ISBN: 0-321-36929-7
http://www.peachpit.com
Williams, Robin and Tollett, John. Podcasting and Blogging with GarageBand and iWebu>, Peachpit Press, 2007
ISBN: 0-321-49217-X
http://www.peachpit.com
Online Resources
MacJams.com - An Apple GarageBand User Community
http://www.macjams.com/links.php
Getting the Most from GarageBand
http://www.mrob.com/garageband/
iCompositions - Share Your GarageBand Creations
http://www.icompositions.com/
MacIdol - GarageBand Tips and Tutorials
http://www.macidol.com/tips.php
Apple Discussions - GarageBand
http://discussions.info.apple.com/webx/garageband/
Educational Uses
Students can create their own compositions to be used in iPhoto, iMovie, and iDVD projects. Music teachers use GarageBand to teach musical elements. Foreign Language teachers can make voice recordings with multiple tracks, with one track being English, and the other track being the foreign language. Podcasts can be created with GarageBand and then posted on iWeb.