iCal

iCal is a personal calendar application. iCal lets you keep track of your appointments and events with multiple calendars featuring views of upcoming activities by day, week or month.

iCal lets you create separate color-coded calendars for your home, school and work schedules, and it lets you view all your different calendars at the same time from within a single unified window.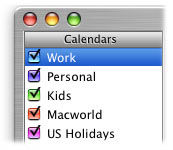 iCal is available as a free download. You can create calendars that you can share with other people via the Internet. Publishing calendars on the Internet requires a .Mac membership or access to a WebDAV server.
Online Resources

Apple iCal Web site
http://www.apple.com/macosx/features/ical/
The Apple web site has detailed information on iCal.
Apple iCal Library
http://www.apple.com/macosx/features/ical/library/
Here is a list of iCal libraries that you can subscribe to.
iCal Share
http://www.icalshare.com/