iPhoto
Using Digital Cameras and OS X
Digital Hub concept
Apple Camera List
http://www.apple.com/iphoto/compatibility/camera.html
iPhoto Window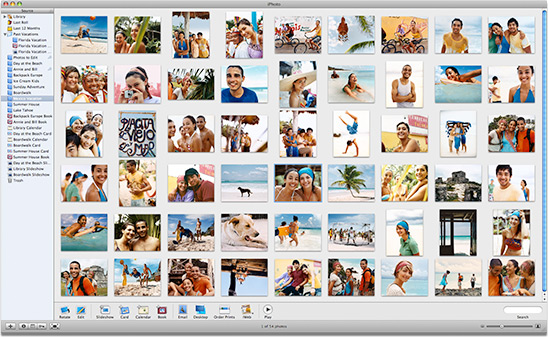 iPhoto Library Organization
Location: Where do your pictures live?

Users/Your Home Directory/Pictures/iPhoto Library
Don't change anything!
If you move, delete, rename, or otherwise tamper with files or folders in the iPhoto Library folder, you may be unable to see your pictures in iPhoto.

How photos are arranged in your library
Importing Pictures
iPhoto is designed to work best with JPEG files, the standard format for data compression of still pictures. If you experience problems working with a non-JPEG image file in iPhoto, use another image-editing application to convert it to JPEG.
Sources of Images:
Digital Cameras
Photo CD's
JPG images on computer
Scanned images
You can also drag individual photos or an entire folder from the Finder into iPhoto's photo viewing area. If you drag a folder, a film roll is created with the folder's name. If the folder you import contains subfolders, film rolls are created with each subfolder's name.
Albums
An album is a collection of photos you select from your photo library and arrange in the order you want. You can use an album to chronicle a special event, such as a summer vacation, or display a particular subject, such as your favorite nature photos.
You can also use albums to organize photos for a slideshow, QuickTime movie, or web page or one of the iPhoto books.
You can make as many albums as you like using any images from your photo library. You can also include the same photo in several albums without making multiple copies of it.
Adding Albums (Command + N or use + button)
Change the Order of Albums - Drag up and down
Folders
Starting in iPhoto 5, you can create folders to store albums in. For example, you could have a folder or Vacations and then put all of your albums from different vacations in that folder.
Organize Your Photos
Organizing Photos
Adding Pictures to Albums
Film Rolls (correlates to import group)
You can only display film rolls in the photo library.)
Slider Bar - View Size
Keywords - now set in the Preferences window
Moving and arranging photos
Rotating photos
Photo Information (Title, date taken, comments, keywords, etc.)
Photo Info (camera settings, etc.)

Sharing Photos
Printing
Check Print window for printing options. It will vary depending on your printer.
Printer Compatibility
http://www.apple.com/iphoto/compatibility/printer.html
Kinds of Prints:
Contact Sheet
Full Page
Greeting Card
N Up
Sampler
Standard Prints

Number of prints on page
8X10, 5X7, 4X6, 2X3
Photo glossy paper
Slideshows
Preferences: length of slides and music from iTunes
Also sample music - Minuet in G, Jesu, Joy of Man's Desiring
Can repeat and loop slides
Exporting slideshows
Full screen presentation
Transitions between slides and on screen controller
Ken Burns effect and adjustments for photos
Email Photos
Uses OS X mail
Use preferences to switch to Entourage, icon changes too
Choose size of photo to mail.
Configures photo and opens email message with picture attached


Note: The JPEG files in your iPhoto Library are already compressed from their original raw pixel format and can't be made meaningfully smaller by DropStuff. To control the attachment size of your digital photos, use iPhoto's Email button instead and take advantage of the Size pop-up menu. You can see the resulting file size for each option before you make your choice.
Ordering Prints
Requires internet connection
You need to set up account with a photo service such as Kodak Print service
Choose size of prints and number of copies
Pay online with credit card
Ordering Books

Book Themes
Picture Book
Modern Lines
Formal
Travel
Watercolor
Photo Corners
Contemporary
Folio
Family Album
Crayon
Baby Boy
Baby Girl
Old Book Themes
Picture Book
Classic
Story Book
Collage
Portfolio
Year Book
Catalog
Options
Creating Books: You create books from an album, not the main Library
Choose a theme
Titles, comments, page numbers
Create book
Choose number of photos per page
Add story and text
Error alerts
Preview your book
Printing books
Print your book in PDF format
Use iPhoto's book view to design a book layout, add comments to each picture, and create pages that only contain text (a title page, for example).
Saving a Book as a PDF file
You can use the Print dialog box in OS X to save a book layout as a file in Portable Document Format (PDF).
To save a book as a PDF file:
Click the Book button.
Choose Print from the File Menu.
Click Preview.
Choose Save As PDF from the File Menu.
Calendars
You can create your own calendars in iPhoto using your own photos.
Desktop
Use this to set a picture to your desktop background.
Cards
You can make beautiful gift cards with your photos. You can order cards the same way you order books with an Apple ID account or you can print them out.
I use cards to make images with text.
Photocast
If you have a .Mac account you can publish some of your pictures that others can view.

Sending Photos to Other iLife Applications
All of the iLife applications are integrated with each other. It is easy to take your photos and send them to iDVD or to iWeb. It is built right into the program.
Burning CD's
Select Album or Albums (?) or entire libraries
Click Burn
Insert a blank disk and burn to a CD
Exporting Photos
File Menu....Export - Three Tabs
Exporting Photos

Original or jpg format, also TIFF or PNG
Choose size and info to export


Export as a Web Page

Choose background colors and formatting
Export to Sites folder in your Home Directory

Export as Quicktime Movie

Select :

Size of images
Length of image display
Background color
Currently selected music (from slideshow)
Export

Editing and Retouching Photos

Rotating Photos
Constrain Sizes
Crop Photos
Enhance
Red Eye
Retouch
Black & White
Sepia
Adjustments
Other iPhoto Information
Preferences
Integrating iPhoto with other iLife applications
Using Multiple iPhoto Libraries - Option Key
Organizing your photo collection
Storing iPhoto libraries on CD or other drives
iPhoto 5 can hold up to 25,000 photos!
iPhoto 6 can hold up to 250,000 photos

iPhoto Help
iPhoto Help Guide in the Help Menu
iPhoto Tutorials - Atomic Learning Library

iPhoto Resource Books
Engst, Adam. iPhoto 5 For Mac OS X (Visual Quickstart Guide) , Peachpit Press, Berkeley, CA, 2005 ISBN: 0-321-33538-4
http://www.peachpit.com
Engst, Adam. iPhoto 4 For Mac OS X (Visual Quickstart Guide), Peachpit Press, Berkeley, CA, 2004
ISBN: 0-321-24662-4
http://www.peachpit.com
Van Gorp, Lynn. Digital Photography in the Classroom, Teacher Created Materials, Inc., 2001.
ISBN: 0-7439-3601-9
http://www.teachercreated.com
Online Resources
Apple Learning Interchange
http://ali.apple.com/
Apple Learning Interchange - iLife
http://www.apple.com/education/ilife/
iLife Lessons
http://ali.apple.com/ali_sites/ali/ilife.shtml
Educational Uses of iPhoto
Creating Picture Books
Photo Journals of units of study, field trips, etc.
How to books
Writing Workshop: photograph or scan children's illustrations or use computer generated art
Sharing with pen pals or keypals
Nature/Seasonal changes over the course of a year
Assessment
Children's Portfolios