iWeb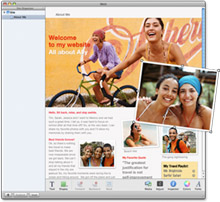 iWeb is Apple's newest addition to the iLife suite of applications. It was introduced in January 2006 with iLife '06. iWeb allows users to create simple and beautiful websites using a variety of templates without having to know HTML coding.
iWeb is linked with the other iLife applications which means it is easy to pull in your movies from iMovie, your photos from iPhoto, and podcasts from GarageBand. Use the built in Media Browser to access your content.
iWeb has a number of themes to choose from. Each theme has 6 preset templates as well as a blank page to create your own layout. With the preset templates, you can just add your own content and the layout is already done. Type in your text and add your own pictures, movies, or podcasts to create your site.
The template choices are:
Welcome
About Me
Photos
Movie
Blog
Podcast
Blank
Publishing Your Site
iWeb is designed to easily upload your web sites to your .Mac account, though if you don't have one, you can also export your sites to a folder and then upload the folder to other web server space you have.
There are some special functions only available to sites published on .Mac such as hit counters and Email me buttons.

iWeb Help
Here are some online resources for iWeb:

Apple
Apple – Support – Discussions – iWeb

iWeb Getting Started
http://manuals.info.apple.com/en/iWeb_Getting_Started.pdf

Other
Atomic Learning (subscription)
http://www.atomiclearning.com/iweb/
iWeb Books
Here are some books about iWeb that may be of interest.

The Macintosh iLife'06, by Jim Heid
Avondale Media, Peachpit Press,
The Macintosh iLife'06 in the Classroom, by Jim Heid
Avondale Media, Peachpit Press,
ISBN: 0-321-42685-1
Podcasting and Blogging with GarageBand and iWeb, by Robin Williams and John Tollett
SpiderWorks/Peachpit Press
ISBN: 0-321-49217-X
Take Control of iWeb (electronic ebook)
$10
Attached is a 28 page preview in PDF format.
Online Resources
Here are some resource sites that may be useful for you. Remember to check copyright considerations when you get images. You can also find clip art in some programs on your computer, such as AppleWorks. You can copy and paste into iWeb.
Pics4Learning
http://pics.tech4learning.com/
Icon Bazaar
http://www.iconbazaar.com
The Library of Congress
http://www.loc.gov/index.html
NASA
http://www.nasa.gov
Clipart Resources for Teachers
http://www.cdli.ca/CITE/clipart.htm
DK Clip Art - Dorling Kindersley
http://www.dorlingkindersley-uk.co.uk/static/cs/uk/11/clipart/home.html
DiscoverySchool.com Clip Art
http://school.discovery.com/clipart/index.html
Classroom Clipart
http://www.classroomclipart.com/
Free Images - Free Stock Photos
http://www.freeimages.co.uk/

Educational Uses of iWeb
Create classroom web sites
Student created web sites to showcase learning
Classroom news via Blog